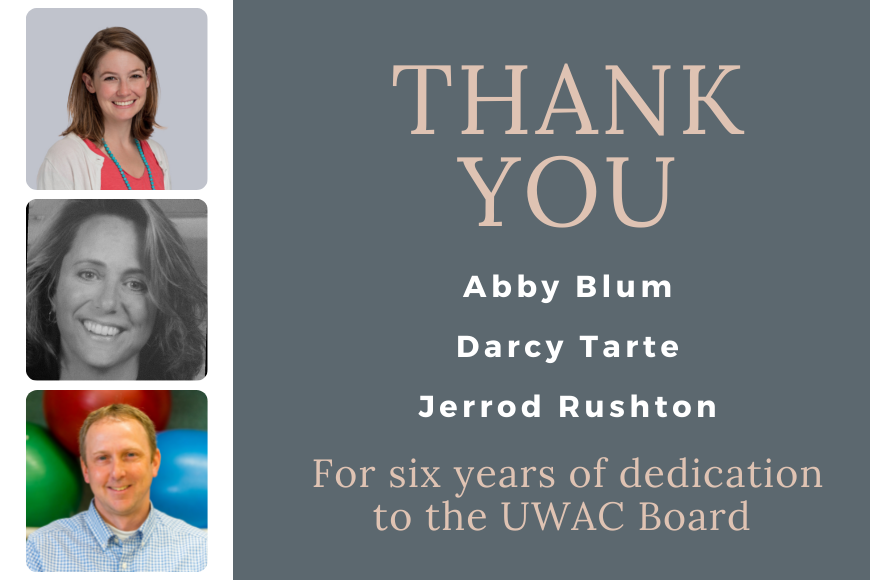 The Board of Directors at United Way of Addison County is made up of folks from all different areas of the community - we have small business owners, fellow nonprofit professionals, retirees, financial industry experts, medical professionals, and even a podcaster! While our board varies in backgrounds, they are very strongly connected by a common bond; they each truly believe in the UWAC mission and support our staff tremendously.
That's why it is so tough to say goodbye to our dedicated board members when their terms come up. This year, sadly, we have three board members who will each be ending their six-year chapters as board members with UWAC. Please join us in thanking the following people for helping us create a stronger Addison County:
Abby Blum is a fundraising guru who has been an Associate Director of Philanthropy for The Nature Conservancy since 2019. Previously, Abby worked at Middlebury College's Office of Advancement for nearly seven years. Abby most recently served as Vice President of UWAC's Board of Directors and was instrumental on the UWAC Development Committee, serving as Campaign Chair in 2020.
Darcy Tarte is Vice President with People's United Bank, overseeing seven branches with her home base being in Middlebury. She has been with People's United Bank since 1994, having started her career in banking in 1989 directly following her graduation from college. Darcy's expertise in the financial field made her a natural fit and valuable mind serving as UWAC's Board Treasurer and leader on the Finance Committee.
Jerrod Rushton, owner of Middlebury Fitness since 2012, most recently served as UWAC's Board President as well as the 2021 Campaign Chair. Jerrod's thoughtful leadership - especially during the pandemic as UWAC launched our COVID-relief fund, "Addison County Responds" - has been invaluable to the UWAC staff and fellow Board Members.
Abby, Darcy, and Jerrod - thank you for your devotion to our community and to United Way of Addison County. We are grateful for your leadership, creative ideas, generosity, support, and friendship. While we're sad to be saying farewell, we are grateful that each of you is an active member of this great community of ours.