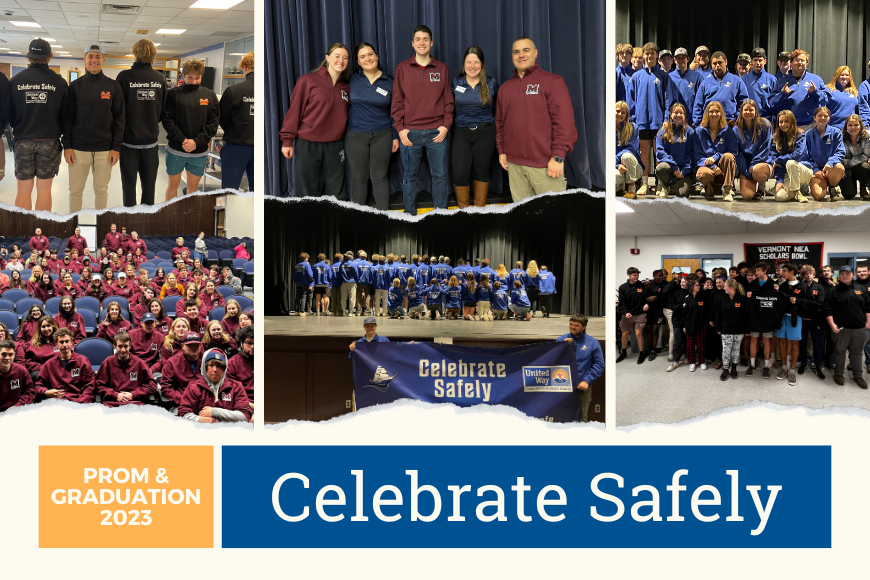 Spring has sprung in Addison County! The newfound warmth brings thoughts of blooming flowers, migrating birds, and for high school upperclassmen, prom and graduation events.
Celebrate Safely is an annual campaign for local high school students and their families during prom and graduation season. It is a reminder to be safe and make good decisions before, during, and after these high-risk events. It is also a reminder to make a plan with your friends and family on what your activities will be following prom and graduation events. We want to ensure that all Addison County students keep themselves, their friends, and their community safe by riding and driving responsibly and being in safe environments at all times.
Ensure your family knows where you will be before and after prom and graduation - honesty is the safest policy. Share your location with a trusted friend or family member in case of an emergency.
Remind yourself and others to drink water throughout prom and graduation activities - don't let dehydration ruin your occasion.
If you need a ride for any reason, please reach out to a responsible and sober family member or friend. Family and friends would rather give you a ride than have you drive or ride under the influence.
Remember that you do not have to drink or use substances to have fun.
If you plan to stay at a location overnight, make sure that you feel safe with the people around you. Always speak up if you feel you are in an unsafe situation.
Please remember that celebrating safely is not only for prom and graduation season; you should always celebrate safely, no matter the occasion. Keep your friends, family, and community safe by being responsible all year long.
YOU are important. Have fun. Be safe!