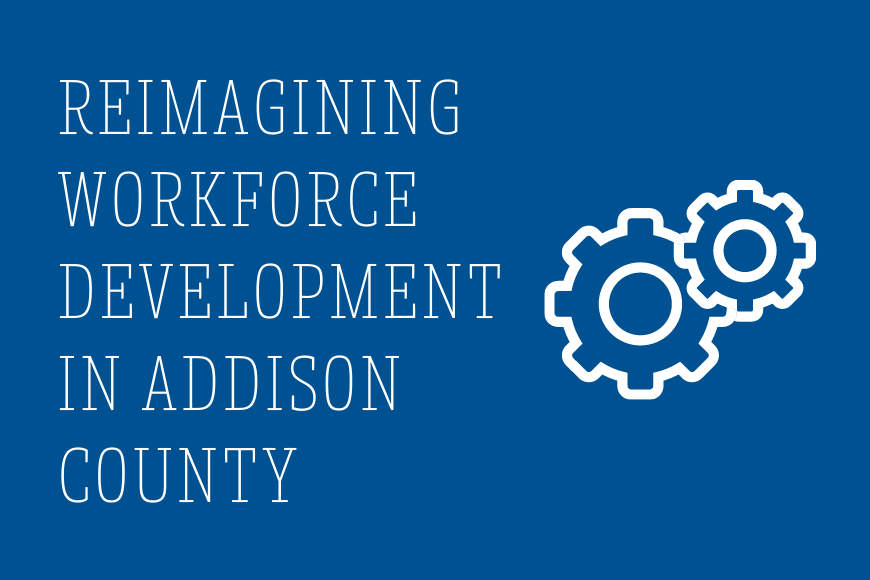 Reimagine Addison County, an initiative coordinated by UWAC, interviewed service providers in education, the nonprofit sector, and more to learn about the strategies and adaptations they developed that are enhancing the well-being and future of Addison County. In today's post, we highlight Workforce Development and what we learned from our conversation with Jennifer Stefani from the Community College of Vermont and Natalie Reigle, from Vermont Adult Learning. The Community College of Vermont has workforce and continuing education opportunities and degree and certificate programs, with locations across the state, as well as extensive online learning options; serving over 10,000 students each year, it is Vermont's second-largest college. Vermont Adult Learning provides career readiness support to help adult learners in workforce development, helps students acquire the skills needed to earn a high school diploma or GED, and teaches English Language Learners (ELL) language skills needed to advance in education and the workforce and other programming.
The Work
Jennifer and Natalie talked with us about how the Community College of Vermont (CCV) and Vermont Adult Learning (VAL) consistently strive to improve and further the workforce and educational development opportunities for the thousands of students enrolled in their programs each year. CCV has many pathways for students who have, according to Jennifer, "always wanted to go to school but didn't feel like they had the resources." The pathways to a CCV education can start in high school through dual enrollment programs, through early college programs; ultimately, people can get an associate's degree and be ready to transfer to a larger school like the University of Vermont or the Vermont State University without leaving Addison County. Keeping students local is something Jennifer told us she appreciates:
"Students are told they should grow up, go to high school, and then leave Addison County and go to college somewhere else and that defines success. But for us in this town, this community, this county, we need people to stay and build the capacity and agency, and power of this community. And CCV and Vermont Adult Learning are really well positioned to help that happen."

Jennifer Stefani, CCV
Natalie described the diverse workforce development opportunities offered by Vermont Adult Learning (VAL). They have a set of courses called "Beyond the Classroom" that include digital literacy, personal finance, work readiness, GED prep, and courses that prepare non-native English speakers for college since a lot of their students have college degrees in their home countries, but not in the U.S. They have an Integrated Education and Training program that trains people with lower incomes for careers in sustainable energy fields like solar panel installation, while simultaneously expanding access to resources like solar panels to low-income households. VAL also offers other key workforce development support like job readiness assessments, resume and cover letter assistance, employment search and application help, job interview preparation, and job retention support.
A Pandemic Pause
CCV moved its classes online for a significant period during the pandemic. They eventually returned to in-person classes in early 2022 and required proof of vaccination or exemption for students to return to in-person learning.
VAL also pivoted online during the pandemic and used the time to develop what they call their 'Online Learning Center.' In the center, students have access to more teachers, a greater variety of courses, and a more flexible schedule. VAL's goal in creating the online center was also to reach a broader segment of Vermonters, which they did and continue to do.
The Future
Jennifer and Natalie are both members of the Addison County Workforce Alliance (ACWA), a partnership of people in higher education, services, and business, who are working together to identify gaps in the workforce and training/education in the region, develop strategies to fill those gaps, and meet the workforce needs. The mission of the ACWA is to connect the Addison County workforce development system to the needs of employers and job seekers through systematic and ongoing engagement and partnership. As Jennifer explained, her goal for the future is to see better communication between those doing training and workforce development work and those in the business community so that places like CCV and VAL can provide training and development to job seekers that would be mutually beneficial to the needs of employers.
Here's a short clip from our discussion with Jennifer and Natalie:
For More Information:
UWAC Policy Priority: Workforce
Community College of Vermont
Vermont Adult Learning
Addison County Workforce Alliance