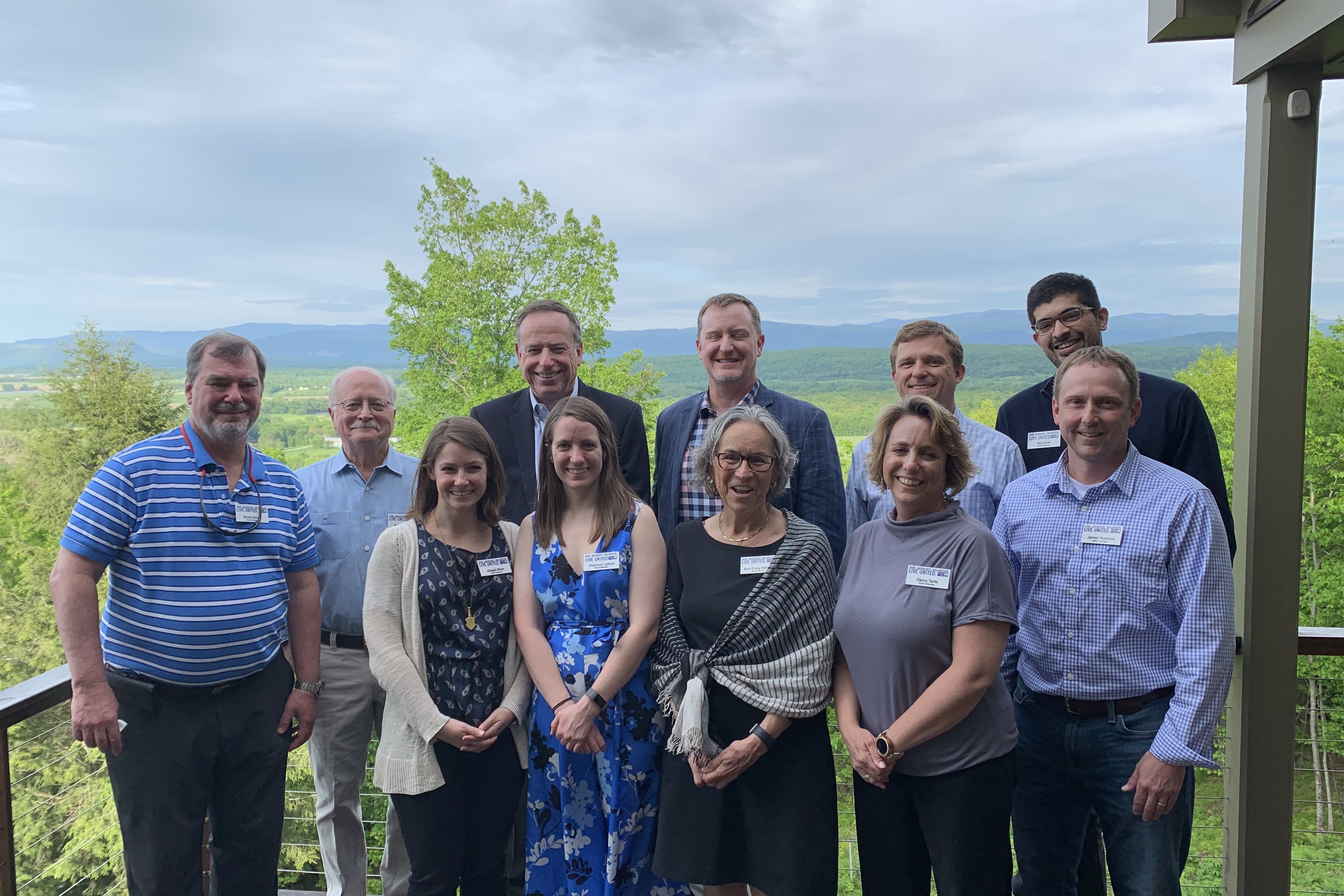 On January 8, 2020, Addison County lost an incredible community leader, John Dale. John served on the United Way of Addison County Board of Directors from 2013-2019. This post was written in his memory by staff and Board members that had the opportunity to work with him. John's life outside of his time he generously gave to UWAC is beautifully remembered in his obituary.
"As an architect you design for the present, with an awareness of the past, for a future which is essentially unknown." – Norman Foster
The first time I met John Dale, he was interviewing me for my current position. He was the Board President at United Way of Addison County and was leading the search for a new Executive Director. While I answered the hiring committee's questions in a conference room at People's United Bank, John leaned far back in his chair with his arms crossed, nodding occasionally and sitting up when he had a follow up question for me. There are two things I didn't know that day that became clear to me very quickly in the weeks and months to follow: 1) John was my #1 resource for getting through my first year as Executive Director, and 2) he always sat that way when he was listening.
John was in his 6th and final year on UWAC's Board at that time. You might think that by Year 6 he was starting to get "senioritis." By John's own admission, the opposite proved to be true. In his final year of Board service we undertook many things together, an extensive strategic planning process being the most significant. During one session, our consultant asked us to choose a postcard from an array of postcards with different images on them. Some showed yoga poses, others cute animals. I've racked my brain, but cannot remember what was on the postcard I chose. John, not surprisingly considering his career as an architect, selected an image of Stonehenge.
We were then asked to get into pairs and select one of our two postcards for an activity that had not yet been explained to us. John and I were paired together and we decided to pick his postcard for the mysterious activity ahead of us. Our consultant then challenged us to use the image we selected together to describe UWAC in one sentence.
We are fortunate enough to have John's exact response to this exercise in writing. It was captured in our notes and lives on in our strategic plan. Looking at Stonehenge and thinking about UWAC, John said: "It takes collaboration to build enduring institutions that embody shared values."
The spirit of his words is evident in the work United Way of Addison County continues to do today. When John ended his 6 years of service on our Board, he left us with a strategic plan that will continue to guide our work for years to come. He also left us with new volunteer leadership that has the same commitment to collaboration and community building that he had. Addison County is, undoubtedly, a better place because of John Dale and I am forever thankful for the year I had to work with and learn from him.
Helena D. Van Voorst, Executive Director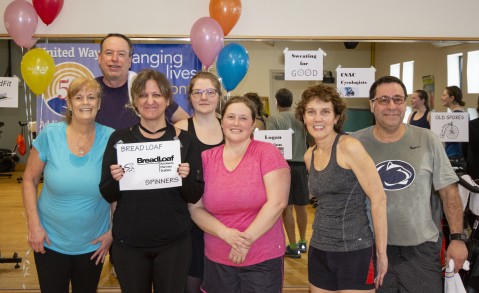 John (back row) and his fellow Breadloaf Spinner at Spin United 2019
Words from John's fellow Board members:
"John was a wonderful leader and mentor. As Board Chair, he approached any challenge with a level head and great thoughtfulness. He was also able to find humor and brought a sense of levity to any dull (at best) or troubling (at worst) hurdle. John will be greatly missed in our community." - Abby Blum, Vice President
"I had the privilege of working with John in his role as a United Way board member. He was a terrific leader and committed volunteer. His love for our community and his wish to make it a better place for everyone was an inspiration." - Ann Hanson, Former Board Member
"My regret is that I knew him for such a short time but during that time I learned what a caring and giving person he was. His countless hours working for the good of the community is a legacy that can not be duplicated." - Bruce Bayliss, Board Member
"What I remember most about John is that during my onboarding time for the board is how welcoming and generous with his time he was. It made all the difference for me." - Bruce Grove, Board Member
"I met John in 2015 when I joined the UWAC board. From the first day I met John it was clear that he was highly intelligent and it did not take me long to realize how incredibly kind, compassionate and thoughtful he was. John exuded a genuine sincerity that made him fun to be around and easy to work alongside. On more than one occasion over the years I can recall thinking to myself how truly fortunate our community was to have someone as smart, caring and considerate as John working tirelessly for this community, his community, a community that he loved deeply.
Early in his tenure as Board President I was humbled when John approached me and asked if I would serve as Vice President. During this conversation I remember John saying 'don't worry Jerrod, I don't plan to lean on you too much.' In that moment I knew that UWAC was in great hands and decided that this was a leader I wanted to stand behind and support in any way I could. I believe John lived his life this way, giving everything he had to others while never leaning on them too much.
John was highly respected by all of his colleagues on the Board and the community alike. He possessed many amazing attributes and I particularly admired John for his calm, cool demeanor and supportive leadership style. I will always remember one text conversation that I had with John in a moment I was feeling frustrated with some recent developments and John replied 'it will ebb.' I was grateful for his words of leadership in that moment as the situation did 'ebb' just as he said it would, in large part because he made it so. John was the perfect leader for UWAC at a time in the organization's history where as Robert Frost wrote 'Two roads diverged in a wood.' Thankfully, John led us down 'the one less traveled by, and that has made all the difference.'
Thank you John. You are missed today and always." - Jerrod Rushton, Board President