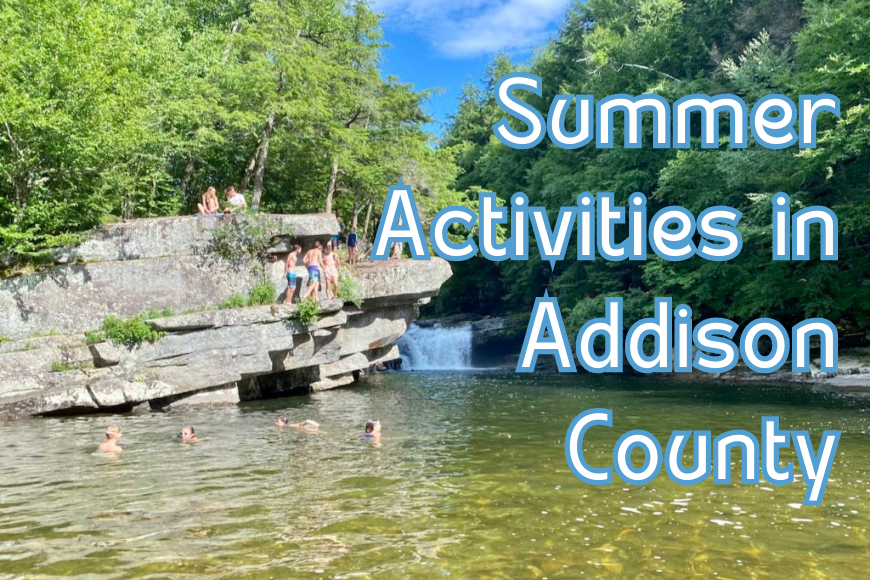 Instead of being stuck at home all break, here are some fun and low or no-cost activities you can do instead of sitting inside all day - enjoy the SUN!
Go for a HIKE: Most hikes are completely free and a lot of fun. There are hikes all around Addison County that range in difficulty, but all have great views. Hiking is a healthy activity and a great way to get out in nature.

Take out a PASS from the Bixby Library: The Bixby Library has many passes for activities nearby that you can take out for free. Their passes range from free entrance to all Vermont State Parks for the day to a discounted cost at the Echo Museum up in Burlington.

POOL (Vergennes and Middlebury): Gather up some of your friends and go for a swim in one of these nearby pools. Entrance fees vary slightly, but the average is $5 per person.

Vergennes Day on August 26th: Celebrate the little city with fun activities, food trucks, carriage rides, and more.

Midd Summer Market: Stop by this farmer's market in Middlebury, full of amazing crafts and delicious food.

Vergennes City Band Concerts: Vergennes City band performs concerts on the Vergennes Green on Monday evenings all throughout the summer.

Addison County Fair & Field Days: Field Days is an annual tradition in Addison County. With good food, fun games, rides, and animals, you can spend hours having fun at the fair. It costs about $8 per person, not including the cost of tickets/bracelets for the rides and the cost of products from vendors.

Paint rocks: Go to the dollar store and get some cheap paint and brushes, then go out and find some smooth rocks. You could leave rocks around your community or take them home with you!

Go STARGAZING: Find an open place, lie down, and watch the stars.

Go swimming at Bristol Falls: A beautiful place to swim with no entrance fee.
There are so many things that you can do this summer that do not require tons of money, electronics, or substances to have fun. Summer shouldn't be spent sitting around the house all day. Go outside, gather some friends, and try a few of these activities. However, please remember to leave no trace wherever you go, so these places can be open and available for many more summers to come!
Happy Summer!

Gina LeBeau
UWAC Youth Coordinator