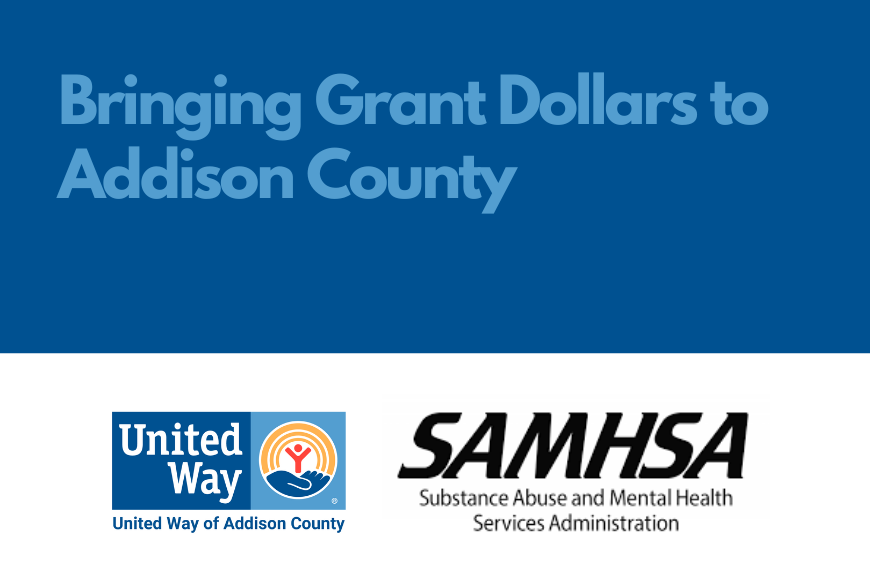 We are excited to announce that United Way of Addison County has been awarded the Sober Truth on Preventing Underage Drinking Act Grant from September 2023 to September 2027. The grant award is $60,000 annually for four years for a total of $240,000. Funding will be used to promote protective factors, cultivate substance-free environments, and support Trauma-Informed Systems Training for our community. Therefore, for the next four years, each of Addison County's three public high schools, including Middlebury Union High School, Mt. Abraham Union High School, and Vergennes Union High School, will receive $5,000 towards Project Graduation to promote substance-free events during high-risk times for underage drinking. Additionally, United Way leads the Addison County Substance Use and Prevention Coalition, and they will have the opportunity to work more closely with alcohol retailers to ensure compliance and prevent underage drinking through a social awareness campaign. To address the root causes of underage drinking, $4,000 annually will support the Counseling Service of Addison County's efforts to provide Trauma-Informed Care training internally and throughout the health and human services continuum for youth and families in need of mental health care. The STOP Act Grant is crucial in honing in on the need to reduce underage drinking and will provide resources to youth, parents, and guardians about the harm of alcohol on brain development and performance in school.
Is underage drinking an issue in Addison County?
Based on the 2021 UWAC Core Supplemental Survey, we saw a significant increase in the percentage of local students reporting any past 30-day use of alcohol from middle school (5.5%) to high school (24.2%). According to the same survey, 6.6% of students believe that their parents or guardians think it is not wrong to have one or more alcoholic beverages per day.
What will this grant impact and measure?
One of the proposed project goals is to reduce underage drinking in Addison County by implementing evidence-informed activities that increase protective factors and decrease risk factors among youth and their parents/guardians. The associated measurable objectives for the goal include increasing the percentage of students who believe their parents/guardians "think it is wrong or very wrong for them to have one or two alcoholic beverages nearly every day" and increasing the percentage of students who perceive peer disapproval of alcohol use. The second goal is to reduce underage drinking in Addison County by decreasing access to alcohol from commercial and social sources through increasing the number of successful compliance checks of local alcohol retailers in Addison County, decreasing the percentage of Addison County parents who agree or strongly agree that it is okay for teens to drink alcoholic beverages occasionally, and increasing parents of 6-12 graders' awareness of resources around youth alcohol use prevention. The last goal is to increase citizen participation and greater collaboration among all sectors and organizations of a community to foster long-term commitment to reducing underage drinking in Addison County. We will achieve this by increasing the number of individuals who work with youth training in Trauma-Informed Care, increasing the number of organizations and businesses supporting prevention efforts around youth alcohol consumption, and increasing citizen participation in dialogue night.
Through this grant, we will enhance the capacity to strengthen the coalition's effectiveness in addressing underage drinking by implementing Sticker Shock, an awareness campaign to educate the public and change attitudes about selling and serving alcohol to underage youth, by implementing Celebrate Safely, an innovative social marketing campaign during high-risk times such as prom and graduation season which aims to increase overall engagement from students, reduce the rate of underage drinking during high-risk times, and encourage parents to have conversations with their children about how to celebrate milestones without the use of substances. Our coalition will also support the Counseling Service of Addison County by implementing a community-wide Trauma-Informed System approach to developing a healing community in Addison County. This approach will equitably support the community from a trauma-informed perspective and enhance protective factors in Addison County.