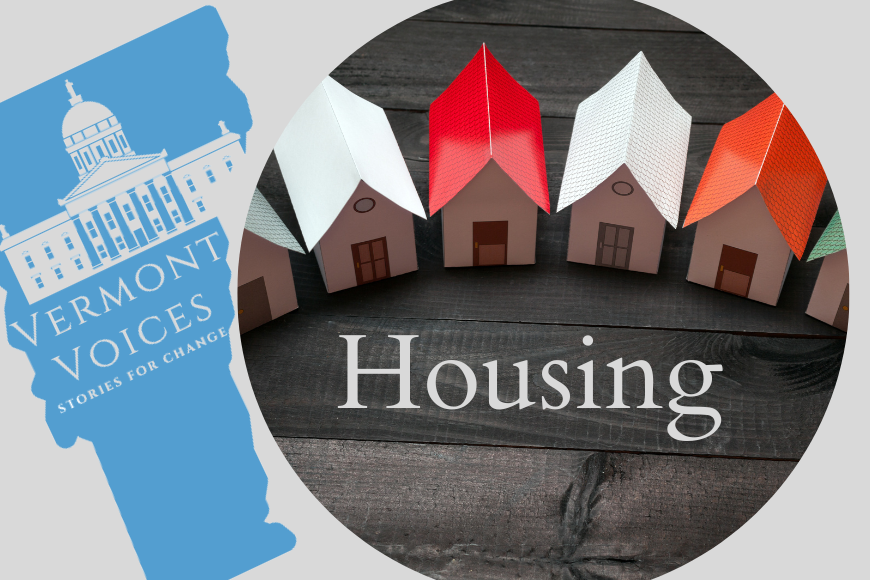 "We need to focus on the possibilities instead of the barriers. Our community has a lot of assets. We have vibrant downtowns, great schools, and a rich network of social services, and there is a lot of opportunity here. We can expand these opportunities…bring more people into these resource-rich neighborhoods and communities that we have." - Elise Shanbacker, Addison County Community Trust (ACCT)
Available housing. Affordable housing. Appropriate housing. Temporary housing. People experiencing homelessness. There's a lot to discuss, and there is a lot to understand. The housing crisis is likely something you've heard about; perhaps you have even felt the struggle in some form. For many people who were already experiencing the challenges of affordable living, the pandemic greatly increased their hardships. And for those who work in housing, the pandemic changed their roles and responsibilities considerably.
"We are understaffed right now. Some of the staffing issues are related to different employment environments, such as people wanting to work remotely. Our positions are in-person with the people we serve – both in the shelter and in affordable housing properties. We are always trying to find innovative ways to work together, but we are struggling to staff the shelter." - Susan Whitmore, John Graham Housing & Services
"One thing we have seen as the permanently affordable housing provider is that we have no vacancies. We receive ten applications for every apartment that becomes available...and overall, we see a greater need among our residents, in particular for services. People seem to be experiencing mental health and substance use disorders at a higher rate." - Elise Shanbacker, ACCT
"This is going to have a huge impact on our local nonprofits. People who have been relying on their state and the system will now turn to their local nonprofits and these places are already under-resourced and under-funded." - Helena Van Voorst, United Way of Addison County (UWAC)
Housing was a major issue before the pandemic; we know the problem isn't breaking news. However familiar the conversation sounds though, the impacts of the housing crisis persist and have evolved.
"One of the impacts we are seeing is that people are staying in shelters longer because rental units are simply not available." - Susan Whitmore, John Graham Housing & Services
"…shelters are giving out camping gear instead of keys (houses) because there is not enough available housing." - Helena Van Voorst, UWAC
The Vermont Emergency Rental Assistance Program (VERAP) was funded through the American Rescue Plan Act (ARPA); it's money from the federal government that Vermont distributed to help people with housing costs. VERAP was more inclusive and less restrictive than other rental assistance programs; it covered rent and utilities and could also pay for extra portions of the tenant's rent, such as in a Section 8 housing situation.
"VERAP helped with eviction prevention – it helped those who were housed to remain housed. This funding was always meant to be a COVID-era relief program, and now that the country is normalizing living with COVID, many pandemic-era programs are going away. The biggest impact of VERAP coming to a close is that there will be some people who cannot afford their rent. This will impact the landlord financially, and if that leads to eviction, an increase in the number of people who are homeless." - Susan Whitmore, John Graham Housing & Services
"As of October, we had 49 tenants (two-thirds of ACCT residents) who had been receiving assistance through the VERAP program who lost that assistance. We are hopeful that we can continue to work with people and continue to get them the assistance they need." - Elise Shanbacker, ACCT
For housing leaders in Addison County, there is an acute sense of responsibility to predict the aftermath of VERAP ending.
"There is understandable emotional turmoil for both clients and housing services staff. We work hard to ensure that our staff stays emotionally well to be the steady voice for clients. Both the government and housing agencies are actively seeking solutions." - Susan Whitmore, John Graham Housing & Services
"The impact of COVID on our most vulnerable community members is only yet being felt. The need for support is just as great if not greater than 2020." - Helena Van Voorst, UWAC
So what is next? And how do housing leaders stay motivated and confident that we will see positive outcomes? While they might not have all the answers, housing agencies are working diligently to continue offering their services and programs and building capacity for more and better housing.
"Our system is doing what it can to support housing production, and the networks have been working hard to increase the number of housing options out there, but that is not enough. We could use legislators to promote density in the downtowns." - Elise Shanbacker, ACCT
"It is a positive thing that housing agencies in Addison County are collaborating. I feel that anything is possible when we put our heads together. It takes a village. There is no way that one agency can independently address the housing crisis in Vermont. VERAP ending creates an opportunity for new solutions. Initially change is painful, but hopefully another door opens that empowers us to create something new and more sustainable. As long as we keep talking and supporting each other we will arrive at that solution." - Susan Whitmore, John Graham Housing & Services
Our Vermont Voices Housing feature will be part of a mini-series. We are committed to providing more details and insight into the latest housing crisis and how it has evolved. Our series will include insights about appropriate housing options, affordable housing, and the latest on VERAP. We value your interest, support, and advocacy engagement. To learn more about our policy priorities and local commitment to lasting change, we invite you to visit our website.
Your voice is valued and important to our work. We invite your stories, feedback, comments, and questions; please email us!