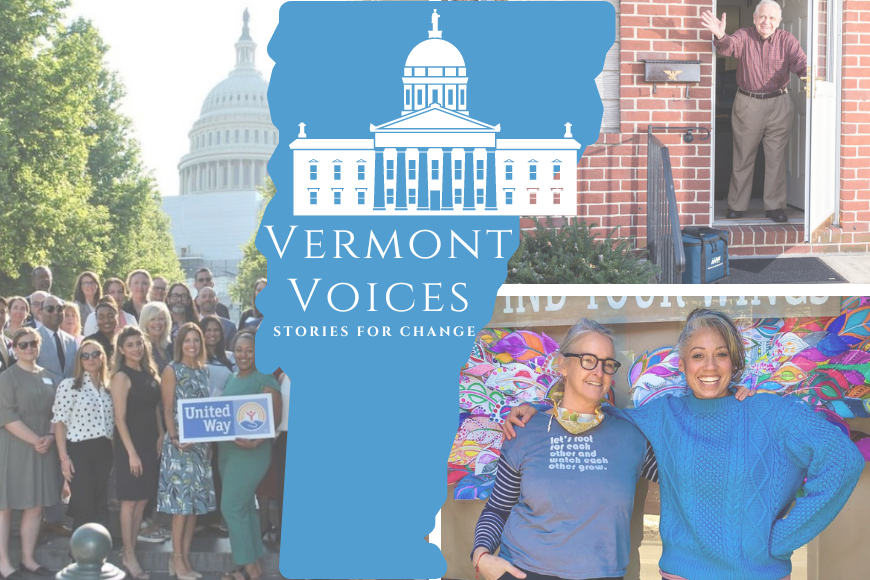 In the fall of 2021, we interviewed 19 funded partners and three neighboring United Ways as part of our 3-month advocacy listening tour. Talking with our partners improved our understanding of local advocacy efforts and goals, leading to our first-ever policy priority agenda. It expanded our knowledge of policy and legislative efforts in Addison County and across Vermont. We have stronger relationships with our partners and an improved understanding of how advancing advocacy within our organization can support local and statewide efforts.
After analyzing our funded partner interviews, we determined a significant need for local-level advocacy support. In addition to our policy priorities, UWAC is committed to helping our funded partners increase organization visibility and share the stories that broadcast their organizational importance and impact.
What is Vermont Voices: Stories for Change? It's a grassroots initiative that raises the voices of Vermonters to create lasting change. The goal of this initiative is to tell our communities' stories and bring them to our legislature and lawmakers, allowing Vermonters to be heard at a local and statewide level.
What are the goals?
Lift up the voices of Vermont residents
Raise awareness of the issues Vermont residents are currently facing
Bring impactful stories to our local and state representatives
Use these stories to create lasting change at a local and state level
Ensure anonymity of storytellers unless requested otherwise
What will be featured this year?
We want to feature what YOU feel is important! What do you want our local and state representatives to know about? What issues are you passionate about? What are some positive things that are currently happening in your community? What seems to be working well? Which systems have the most barriers? Lawmakers and community members want to hear from you.
Interested in what stories we have shared? Read from our VT Voices library:
Addison County Home Health & Hospice