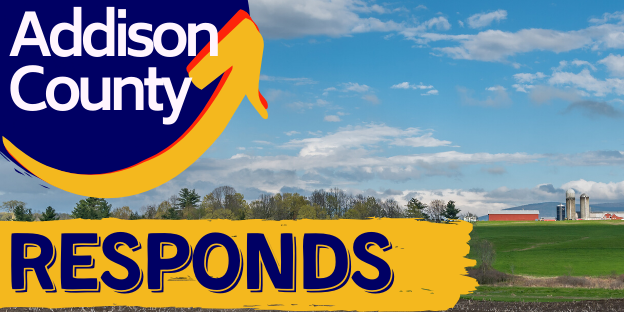 As the needs in the community increase daily, so does our need to persevere in our good work. United Way of Addison County is getting creative in how we stay connected to the people and organizations that need us the most. Here are some ways we're responding to the COVID-19 pandemic and how you might be able to help.
Addison County Responds: It is our responsibility to bring together the people and the resources we think can solve them. Funding nearly 30 organizations in Addison County gives UWAC a unique advantage to understanding these needs and to continue to work together towards solutions. But for all that, sometimes the need is so current, to bring the people and the resources together requires more support than what we planned for. Which is why we present to you the opportunity to not just react but to respond by contributing to Addison County Responds.
Vermont 211: For anyone in Addison County facing a hardship due to COVID-19, please contact Vermont 211 (free from your phone).
Parent and Youth Support: A lot of parents have been turned into remote employees and remote teachers overnight. That's a lot to handle. Jesse Brooks, Director of Prevention, recently offered a presentation that you can watch here. Also, keep an eye on our Facebook page as we provide resources for families to keep the conversation of health and happiness going.
Addison County Mutual Aid: Addison County Mutual Aid is a neighbor-to-neighbor network connecting people who could use help with volunteers who can offer help. Please use the "I need help" button on their website to fill out a short survey, or call (802) 377-3335 and leave a message with your request. To become a volunteer, just use the "I can help" button.
Childcare Updates: The State of Vermont and Let's Grow Kids have developed a web form to more easily collect information to connect the families of essential workers with childcare in schools and licensed childcare programs that are operating to provide services now through April 6, 2020, while school dismissal and general childcare service closures are in effect. Families can also call 2-1-1 ext. 6 or 1-877-705-9008 to speak to a childcare referral specialist. Childcare programs with questions should call or email the Child Development Division: 800-649-2642 (option 3).
Info About Addison County Non-Profits & Volunteer Center: We have created a Google list of Addison County non-profits and are asking our partners to update regularly with any changing information such as hours and policies as it relates to COVID-19 precautions. We are also helping our funded partners promote their current needs as it relates to the pandemic. Please contact Linnea if you can donate or help with the following needs:
Essential Volunteers - are you a non-profit who relies on essential volunteers? Be sure volunteers are aware of this Best Practices checklist - you can also print and post in areas where essential volunteers are working.
If you represent a nonprofit that has changing needs, please take a few moments to update your organization's profile in our online Volunteer Center. If you are healthy, not at-risk, and interested in helping us meet some of these emerging needs, you may also visit the Volunteer Center and create a profile so we can match your interests/skills to the current needs in our county.
MyFreeTaxes Support - Per Governor Scott's Executive Order to avoid all non-essential close contact situations through May 15th, we will be postponing all in-person tax appointments made with Steve Williams. The IRS has extended the filing deadline until July 15, and if you had an appointment with Steve, he will reach out to reschedule with you once the governor lifts the restriction. If you'd like to try working on your taxes yourself from home, please go to MyFreeTaxes.com. You're also welcome to email Steve at steve@unitedwayaddisoncounty.org.

Emergency Mini Grants: We are pleased to announce the recipients of our emergency mini-grants, made possible by donations to Addison County Responds. Thank you to these front line helpers:
Your steadfast support is providing stability and allowing us to respond to a time of change from a place of strength. Please do not hesitate to contact our Executive Director, Helena Van Voorst if you have any questions.