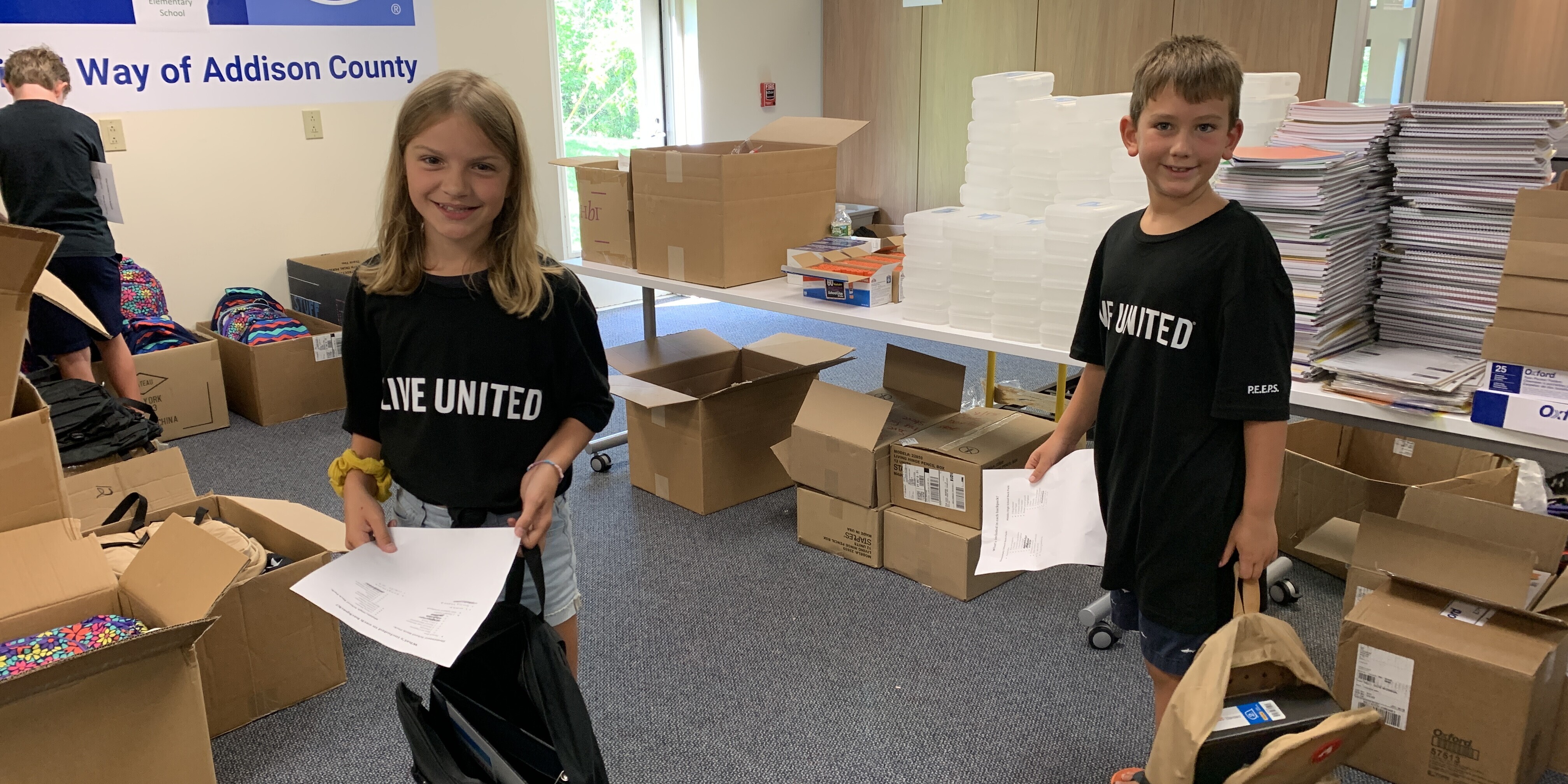 Almost five thousand Addison County children will begin a new school year this August. Soon, school supply lists will be sent out, and families will begin purchasing notebooks, binders, crayons, and pencils for their students.
For some families, shopping for school supplies is a fun end-of-summer event. But for too many families in Addison County, it proves to be a financial burden. According to Vermont's Early Childhood data for 2022, a family of four needs almost $110,000 annually to meet basic needs.
Our goal this year is to purchase and stuff 500 new school supply backpacks! Based on data from the VT Department of Children & Families (DCF), Helping Overcome Poverty's Effects (HOPE), John Graham Housing and Shelter (JGS), and county teen centers, we know the need for basic necessities exist for all students across Addison County. We hope we can count on you to help kids who need extra support start the school year on the right foot. There are three ways to give:
If you have questions about Stuff the Bus or want to help, please email Amy Hoekstra.
Backpack distribution sites
Backpacks will be available beginning the week of August 21st at the following locations. We recommend calling ahead to check the availability of backpacks.
Bristol Hub, Bristol (802-453-3678)
St. Ambrose Church, Bristol (802-453-2488)
Salisbury Free Public Library, Salisbury (802-352-4198)
Vermont DCF, Middlebury (802-388-4660)
Middlebury Union Middle School, Middlebury (802-382-1600)
HOPE, Middlebury (802-388-3608)
CVOEO, Middlebury (802-388-2285)
Vermont Federal Credit Union, Middlebury (888-252-0202)
United Way of Addison County, Middlebury (802-388-7189)
Boys and Girls Club of Greater Vergennes, Vergennes (802-870-7199)
Vergennes Congregational Church, Vergennes (802-877-2435)
Victory Baptist Church, Vergennes (802-877-3393)
John Graham Shelter, Vergennes (802-877-2677)